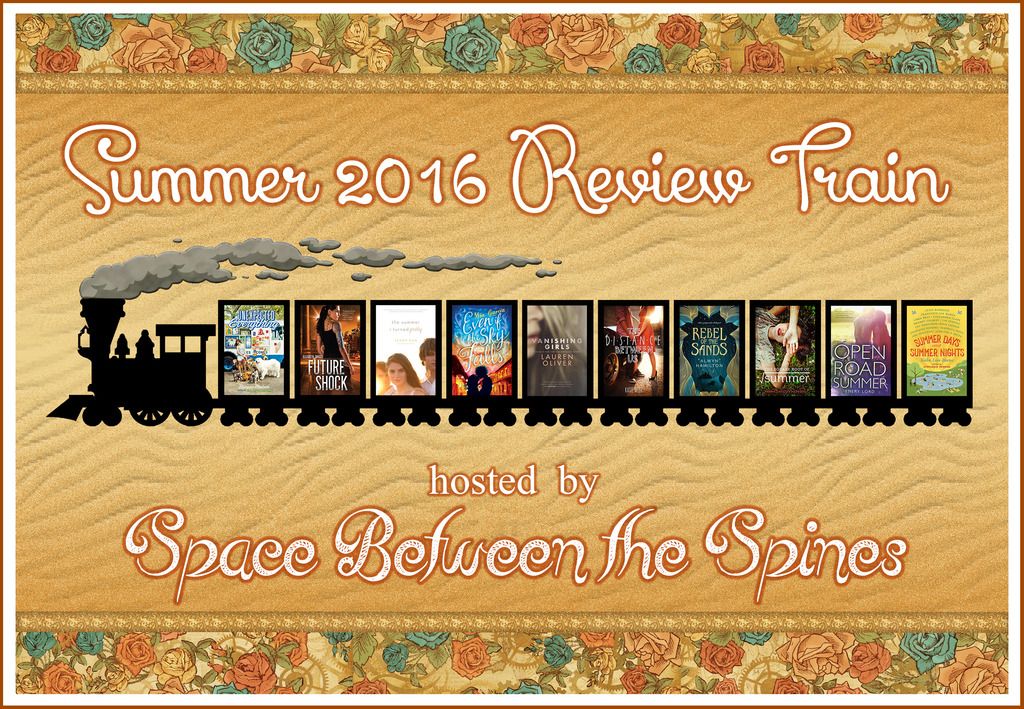 Summer

2016

Review

Train

!!!
So, ever since the relaunch of my blog, I've been trying to think of a fun way that I could attract more traffic and followers, as well as a way to get reacquainted with old blogger buddies as well as meet new ones. And seeing as summer is quickly approaching, my first thought was to have something like a review marathon, in which I post a review every day for a week or so. But how was that different from what I was already doing? And how was I to reach out to others, other than the usual tedious blog hopping?
But then the idea hit me. Why limit this to just me? A great way to network and make friends is for us to work together, to create something big and awesome that could benefit all of us.
So, I'd like to introduce an idea that I'm calling the Summer 2016 Review Train.
A Review Train is a pretty simple concept. Say ten people pledge to participate. After a date and theme are decided, these ten participants will read the book they volunteered to read and review. Afterward, a schedule will be decided among the participants as to who will post their review on which day. For example, Person One will post their review of their book on Day One, being sure to reference the Review Train. They will post their review as usual, then at the bottom of their post, they'll leave a link to Person Two's blog, saying that they will be reviewing the following day - But don't mention what they will review! Keep it a secret, as that's half the fun! Then Person Two posts their review, followed by Person Three the next day and so on until the final day.
This is a good way to network among other bloggers and to grow your reader base. Heavier traffic means more page views and comments, which means more chances to receive ARCs and the like from publishers or to grow your subscribers and followers. Moreover, it's a great way to learn about fun reads and to see new blogs and make new blogger friends. Everyone wins!
So far, I've never really seen something like this be done independently on blogs before, so I'm very excited to try it out. I invite everyone who is interested to participate but PLEASE don't commit to the Review Train if you don't believe you can actually read and review your book, as it could potentially throw off the whole thing.
With that said, here are the guidelines for participation:
1.) Since the summer season is quickly approaching, the theme for this Review Train is "Summer Reads." Ideally, this would be a nice summery set book, a nice beachy read, or a book that is - while not summery - highly popular and to be published during or very close to the time the Review Train is running.
2.) I would like to have - at the very least - six more participants including myself so that the Train can run for a full week. But the more, the merrier!
3.) Ideally, no book would be reviewed twice during the Train, as I want to keep it first come, first serve. But if it really becomes an issue, we could look into it further.
4.) I hope to start the Review Train on Memorial Day, May 30th. That leaves little less than a month to read your book and write up your review. PLEASE do not sign up if you don't think you'll be able to finish it in time.
5.) If you decide to participate, please add me on either Twitter or Goodreads so that I can contact you fairly easily concerning any matters that might arise with the Train.
6.) While this isn't really a guideline, I've come up with a little giveaway that I'll post on my blog on the final day of the Review Train. Readers and commenters who have followed the Train every day can enter to win the giveaway and for an entry, we can have them follow and/or comment on your blog. More traffic and fun for you, just by participating!
Well, that's my idea! What do you guys think? I'm excited to get started planning it and I look forward to working and meeting new friends in this endeavor. If you have any questions, feel free to ask me here or via email, Twitter, or Goodreads and I will do my best to answer them as quickly as possible. I will also keep a list at the bottom of this post as to who has chosen which book to read!
Deadline for Sign-Ups: May 6th, 2016
2016 Summer Review Train Participants:
Brittany @ Space Between the Spines = Reviewing Summer Days & Summer Nights by Stephanie Perkins.
Lauren @ Always Me = Reviewing Future Shock by Elizabeth Briggs
Sam @ Tsundoku Books = Reviewing Even if the Sky Falls by Mia Garcia

Ashley @ [Insert Title Here] = Reviewing Rebel of the Sands by Alwyn Hamilton

Alicia @ A Kernel of Nonsense = Reviewing The Distance Between Us by Kasie West

Gennifer @ Ready, Set, Read! = Reviewing The Unexpected Everything by Morgan Matson

Laura @ Blue Eye Books = Reviewing The Summer I Turned Pretty by Jenny Han

Czai @ The Blacksheep Project = Reviewing Vanishing Girls by Lauren Oliver

Ashley @ What's She Reading? = Reviewing Open Road Summer by Emery Lord

Sinead @ Less Reality, More Books = Reviewing The Square Root of Summer by Harriet Reuter Hapgood